Wednesday, May 27, 2015
Regarding the Iraqi military slogan in the operation for Ramadi, "At your command, o Husayn" (and not the other lousy translations that I have seen in Western media of the slogans). As I wrote in Arabic this morning, religious slogans and chants mean nothing to me: they sound like those who call on people to buy fruits and vegetables from their carts in Lebanese streets (when I was a child). I prefer "At Your command, o Habash" or "At your command, o Marx" but why is the Saudi media (and by extension these days, Western media) regarding this slogan as sectarian in nature? Husayn is the grandson of the Prophet, who is the prophet of Sunnis and Shi`ites alike. Husayn was never a divisive figure among Muslims and the calling of his name was never seen as sectarian or provocative, although the (Sunni?) US Department of Defense objected to the slogan, as if the US was not a full partner in crime in the sectarian war launched by the Saudi government after 2003, and especially in the wake of the humiliation of the Israeli army in 2006 in South Lebanon. Saudi Arabia wanted to help Israel by finding a way to undermine wide Arab and Muslim support for resistance movements in the region. Furthermore, it is telling about the skewed standards and criteria that the blatant and explicit and grotesque discussions in Saudi and Qatari media about the wholesale extermination of all Alawites does not generate US condemnation but this slogan does.
Posted by

As'ad AbuKhalil
at 9:06 AM

Tuesday, May 26, 2015
Is there a more antiquated look and appearance for a blog more than this lousy one? But this is not to announce a change; I have neither the time or the resources to change it. Accept its ugliness.
Posted by

As'ad AbuKhalil
at 11:39 AM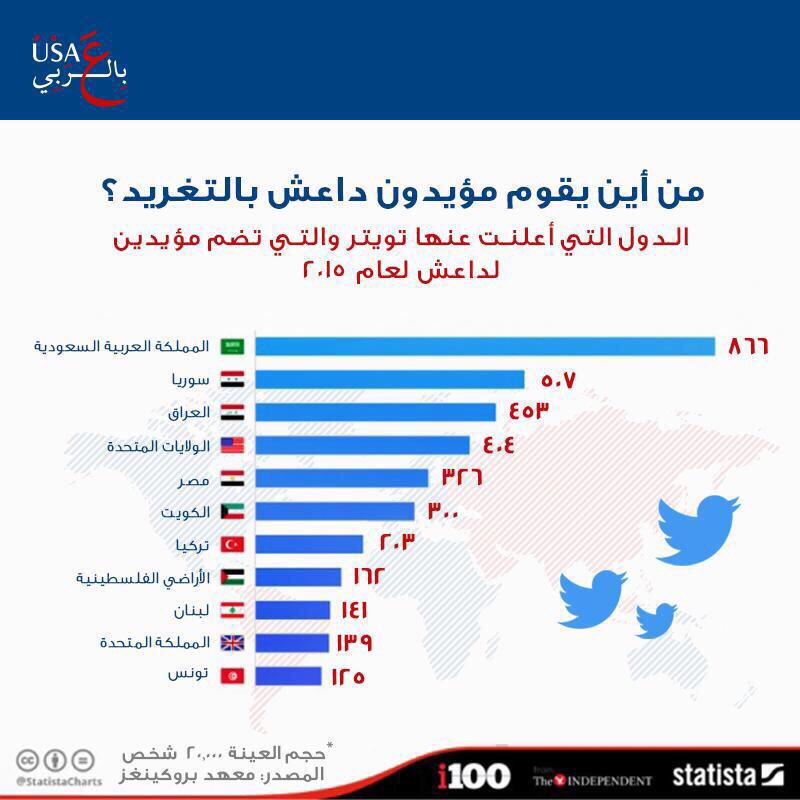 From top to bottom: Saudi Arabia, Syria, Iraq, USA, Egypt, Kuwait, Turkey, Palestinian territories, Lebanon, UK, and Tunisia.
Posted by

As'ad AbuKhalil
at 11:28 AM

From Ali, Angry Arab's chief correspondent in Turkey: "What Reuters conceals when it reports Turkish government support for Islamist groups, of course US&Saudi cooperation in supporting Islamists, including Al Qaeda linked Ahrar ash-Sham
groups
. l Reuters doesn't eager to mention that it was not just Turkish intelligence operation, but CIA organizing this arm flow into Syria.
"One of the truck drivers, Murat Kışlakçı, was quoted as saying the cargo he carried on Jan. 19 was loaded from a foreign plane at Ankara airport and that he had carried similar shipments before. Reuters was unable to contact Kışlakçı."
Reuters of course, doesn't detail the 'foreign plane' in Esenboga, but Turkish press, when covering this scandal, emphasized more on the issue. In fact, testimony of the driver, who was stopped in Adana while carrying arms to Syrian border concides with the New York Times report;
"
With help from the C.I.A., Arab governments and Turkey have sharply increased their military aid to Syria's opposition fighters in recent months, expanding a secret airlift of arms and equipment for the uprising against President Bashar al-Assad
" (…)
"
From offices at secret locations, American intelligence officers have helped the Arab governments shop for weapons, including a large procurement from Croatia, and have vetted rebel commanders and groups to determine who should receive the weapons as they arrive, according to American officials speaking on the condition of anonymity
"
And this is TIME saying, CIA agents located in southern Turkey, close to Syrian border were in charge about which Syrian armed group should be
supported
. "
Posted by

As'ad AbuKhalil
at 11:26 AM

"Security analyst Shoebridge, however, who has tracked Western support for Islamist terrorists in Syria since the beginning of the war, pointed out that the secret Pentagon intelligence report exposes fatal contradictions at the heart of official pronunciations:
"Throughout the early years of the Syria crisis, the US and UK governments, and almost universally the West's mainstream media, promoted Syria's rebels as moderate, liberal, secular, democratic, and therefore deserving of the West's support. Given that these documents wholly undermine this assessment, it's significant that the West's media has now, despite their immense significance, almost entirely ignored
them
." "
Posted by

As'ad AbuKhalil
at 11:24 AM

"His lecture on "justice and reconciliation" for Hebrew University, for instance, endorses the Zionist project of establishing a "Jewish national homeland" in Palestine." "In other words, Bassiouni is suggesting in effect that more international assistance and support for Zionist colonization would have made the ultimate dispossession of the Palestinians a more orderly process with fewer troublesome long-term
consequences
."
Posted by

As'ad AbuKhalil
at 11:23 AM

"You held a series of secret meetings in Europe with officials from the Gulf States. What did you learn?
"When you sit down with them behind closed doors, they talk just like us. When they met with (US President Barack) Obama this week, they spoke about Iran in the same terms we do – only in much harsher words. At present, there are zero gaps between us and
them
." "
Posted by

As'ad AbuKhalil
at 11:22 AM

"Indeed, Israeli women are now at the forefront of hostility to the Palestinians and their dream of statehood. Take Ayelet Shaked, the 39-year-old justice minister. She is a vocal opponent of a Palestinian state and infamously shared a racist essay that compared Palestinian children to baby snakes during the Gaza
war
."
Posted by

As'ad AbuKhalil
at 11:21 AM

"The Swedish delegation is scheduled to meet Saudi government officials, as well as Swedish and Saudi businesspeople." "Sweden makes it clear that we should have economic exchanges even with countries that are not fully democratic and do not share our views on all issues," said
Damberg
."
Posted by

As'ad AbuKhalil
at 11:20 AM

"During his successful election campaign, Essebsi was dogged by a foreign funding scandal after it was revealed that the UAE had given him a gift of two luxury armoured cars.Opposition politician Anwar Gharbi seized on Farhat's claims, demanding the establishment of an all-party parliamentary committee to investigate reports that the UAE had sought to use its influence to "destroy our country"."The intervention of the UAE in Tunisian affairs is extremely dangerous, and represents a clear attack against the country and its people," he told local news site Quds
Press
."
Posted by

As'ad AbuKhalil
at 11:19 AM

This is not new. Saudi media are blaming Iran for ISIS bombing of a Shi`ite mosque in Al-
Qadih
.
Posted by

As'ad AbuKhalil
at 11:18 AM

It has to be said that not only corruption in Israel is as widespread as many Arab countries, but that the Israeli justice system is as corrupt and politically manipulated as many Arab justice systems. They always uncover corruption scandals of major Israeli officials but they always manage to avoid jail time, or if they do, they never get long
sentences
.
Posted by

As'ad AbuKhalil
at 11:16 AM

Dore Gold wrote his dissertation at Columbia about Saudi Arabia. The material was later published in a book titled "Hatred's Kingdom: How Saudi Arabia Supports the New Global Terrorism (Regnery, 2003)." That was the time when Saudi-Israeli relations were not as solid as they are today.
Posted by

As'ad AbuKhalil
at 11:14 AM

""The day after Salazar's arrival in Washington, Spain's ABC newspaper published a detailed account of the emerging case against Cabello, and last month, ABC reporter Emili Blasco followed up with a book laying out the allegations of Salazar and other defectors, who say Cuba's communist regime and the Lebanese militia Hezbollah have been cut in on the
trafficking
."" (thanks Joseph)
Posted by

As'ad AbuKhalil
at 11:13 AM

"Jordan, too, is a vague geographical expression, but has enjoyed moderate governance through the
genius of its ruling Hashemites
".
Posted by

As'ad AbuKhalil
at 11:12 AM

"Imperialism may have fallen out of fashion, but history shows that the only other option is the kind of chaos we see
today
."
Posted by

As'ad AbuKhalil
at 11:06 AM

'They Accept Us as We Are;' Christians Join Forces With Muslim Group Hezbollah to Fight ISIS in
Lebanon
".
Posted by

As'ad AbuKhalil
at 11:05 AM